Description
Mepilex Border Heel Foam Dressing by Molnlycke is an all-in-one absorbent foam dressing that is especially shaped to address wounds on the heel. The dressing is composed of a unique 5-layer structure with Safetac technology that absorbs and retains exudate effectively and maintains a moist wound environment.
Mepilex Border Heel Dressing Highlights

:
Unique design conforms to the heel
Self-adherent
No secondary fixation needed
Non-traumatic dressing removal
Showerproof
Mepilex Border Heel Foam Dressing Features
Non-traumatic to the wound and the surrounding skin at removal, allowing for undisturbed healing
Excellent exudate management with reduced risk of leakage and maceration
Maintains moist environment for optimized wound healing
Provides necessary conformability and adhesive capability for greater patient mobility
No requirement of cutting or adapting the dressing for effective

 wound care

Minimizes stress caused by pain and avoids delays in healing
Promotes patient comfort during wear
Can stay in place for several days depending on the wound condition
Can be repositioned without losing adherent properties
Shaped foam pad helps manage wound areas both on the back and underneath the heel
Specially designed border with flaps enhances adhesion and easily conforms to contours
Border can be folded with limited overlay
Easy to apply and reposition
Unique 5-Layer Absorbent Foam Structure:
Five layered structure of Mepilex Border Heel
 foam dressing
maintains a balanced microclimate and a normal moisture level. The three separate inner foam layers are able to move independently and dissipate shear. Their thickness distributes pressure over a large surface area.
Highly breathable backing film – Offers a waterproof and secure barrier to virus and bacteria greater than 25nm. Minimizes friction between the dressing and the bed linens.
Superabsorbent layer – Absorbs and retains fluids in the dressing.
Nonwoven spreading layer – Distributes fluid on a large surface and maximize absorption performance.
Foam layer – Initiates vertical absorption of wound exudate.
Safetac layer – Seals the wound edges to minimize the risk of maceration, patient pain and trauma to the wound and skin.
Mepilex Heel Border Indications:
Mepilex Border Heel is indicated for the following conditions:
Heel ulcers
Preventing skin damage
Pressure ulcers
Diabetic foot ulcers
Traumatic wounds
Secondary healing wounds
Mepilex Safetac Technology:
Safetac technology allows the Mepilex dressing to gently adhere to the skin without adhering to the moist wound bed, thereby minimizing damage to the surrounding skin and wound. It seals the wound edges and prevents exudate from escaping. This helps in protecting the newly formed tissue and promotes natural healing of the wound. Safetac technology maintains optimal positioning and limits shear and friction at the patient-dressing interface. It allows repositioning of the dressing after skin inspection.
How to use Mepilex Border Heel Dressing?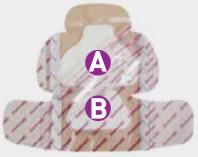 Clean the wound and dry the skin thoroughly. Then remove the central protection film from the dressing.
Put the "B" marked adherent part of the dressing under the plantar surface of foot (dorsum). Remember not to stretch.
Remove the protection film from one of the long flaps. Apply and smoothen out the border. Repeat the same with the other side. Do not stretch.
Put the "A" marked adherent part of the dressing to the Achilles' tendon. Remember not to stretch.
Remove the protection film from one of the short flaps. Apply, and smoothen out the dressing. Do not stretch.
Smooth dressing and borders.
Precautions:
Mepilex Border Heel should not be used in combination with oxidizing agents like hydrogen peroxide or hypochlorite solutions.
Consult a healthcare professional for adequate treatment in case of clinical signs of infection.
Payment & Security
Your payment information is processed securely. We do not store credit card details nor have access to your credit card information.